The launch took place in K.D.'s Pub, Charlestown on Friday July 6th of a major fundraising event for Special Olympics, Western Care Association.
Teresa Ward, Special Olympics Co-ordinator, Western Care Association, thanked the proprietors - Michael Kelly and Martin Donoghue - and the manager of K.D.'s - Henry Peyton - for their initiative in undertaking this fundraising event. The target is £25,000. All the money raised will be spent directly on the athletes. This money will help the athletes in their training and preparation for the Special Olympic Games, and will also be spent on sporting equipment.

John Maughan launched the campaign. John said that he was delighted to be associated with the Special Olympic athletes. He is very aware of the training and work that is involved in the preparation for the Games. John is looking forward to the World Summer Games of 2003 in Ireland.

Finally, Michael Kelly spoke on behalf of the management of K.D.'s and said how thrilled they were, to be a part of this event. Michael knows that there is a lot of work involved in raising £25,000 and said he would be delighted to have people's support in buying or selling tickets.

Michael said that he looks forward to the final night on October 5th in K.D.'s, when Paul Claffey from MWR will come in to raffle the car and all the other valuable prizes.

Tickets are available from K.D.'s, Charlestown (094-55974) or Christine Dolan/Teresa Ward, Western Care Association (094-25133).

Further details on many other outlets throughout the County later.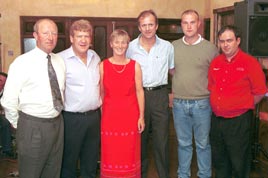 Pictured at the launch of a major fundraising event for Special Olympics / Western Care Association in K.D's Charlestown, from left: Martin Donoghue and Michael Kelly prop of K.D's Teresa Ward, John Maughan, Martin Donoghue (Jnr) and Henry Peyton. Ó Photo: Michael Donnelly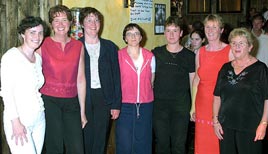 Pictured at the launch of a major fundraising event for Special Olympics / Western Care Association were members of committee from left: Aine Halligan, Grainne McLoughlin, Eileen Doherty, Marcela McBrien, Breda Kenny, Teresa Ward and Ann Leneghan. Ó Photo: Michael Donnelly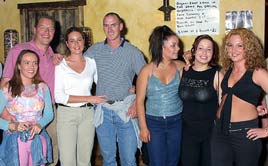 Pictured at the launch of a major fundraising event for Special Olympics / Western Care Association in K.D's Charlestown, from left: Sinead and Andrew Morrin, Rita Doherty, John Casey, Sonya Baldwin, Lucy and Sophie Murphy. Ó Photo: Michael Donnelly